If I don't already participate in a million things, here another one. I'm sooooooo trying to increase the readers on my blog. Because I have lots of things I want to do in the near future and I love to help people out if they need it so please help me.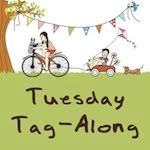 So I have lots of blogs for you to follow.
Well ok this one and 3 others.
Happy Tuesday.
And please leave me a comment and I'll be happy to follow you back!