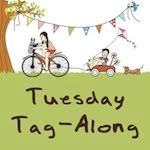 Today my little man is 14mo! Really? Already?
Another wonderful week has come and gone.
And boy am I tired.
If I plan to get up in the morning to take a nice long walk with Wesley then I better get some rest.
I look forward to meeting you!
Just leave me a comment and I'll surely follow you back.
Enjoy my blog!